Safe Digging is No Accident. Electric, Gas, Water, Sewer, Telephone and Cable lines are buried everywhere, and some are only buried an inch or two below the ground's surface.   A job as small as planting a tree or installing a mailbox or fence can damage underground facilities.
By notifying Missouri One Call, you will be able to place a locate request to notify the utilities of when and where you plan to dig.  A locate request provides the information to the utility companies that they need to find your dig site and mark their underground facilities.
You can avoid serious injury or death and expensive damage to property and utility lines by placing a locate request to have your underground lines marked.
Who should place a Locate Request and When?
When planning any form of excavation, it is required by law to place a locate request with the Missouri One Call System at least 3 but not more than 10 working days prior to beginning excavation, except in the case of an emergency.  Weekends, State and Federal Holidays do not count toward the 3 working days.  If your excavation is being done by a contractor, the contractor is responsible for placing the locate request.
What Information is Required to Place a Locate Request?
Please be ready with the following information when you call in your locate:
Start date (The day you plan to start digging)
Your contact information
On-Site contact information
Type of work you will be doing
Type of Equipment you will be using
Who the work is being done for
Will there be trenchless excavation or explosives involved? Click here for definition of trenchless excavation.
Know the depth you plan to dig
The county, city and nearest cross street to the dig site
Where on the property the underground utilities need to be located (example – front, rear, or sides of the property).
What Happens after the Locate is Processed?
Once you have placed your locate request, MOCS will then notify the utilities that have underground facilities at your dig site based on your location.  The utilities will send a locator to mark their facilities at your dig site prior to the start date and time on your locate request.
What will the Utilities Mark?
The utilities will only mark their underground facilities up to the meter.  Facilities past the meter are usually privately owned and generally are not marked by the utility.  If you have privately owned underground facilities, you will need to contact a private locator to mark those underground facilities.  We have a few private locating companies listed here on our website.
Confirm Utility Response
MOCS Members are required by Missouri State Law §RSMO Chapter 319.030 to status each ticket as marked or no conflict prior to the start date and time on the locate request.  It is your responsibility as a homeowner/excavator to make sure all utilities have responded to your request by checking the status of the locate request.  If a utility fails to respond by the start date and time on the locate request, contact Missouri One Call System and place a No Response ticket to renotify the utility that hasn't responded.  By law, the utility has two hours to respond to the No Response request either by contacting you directly or marking their underground facility.
Respect the Marks and Dig with Care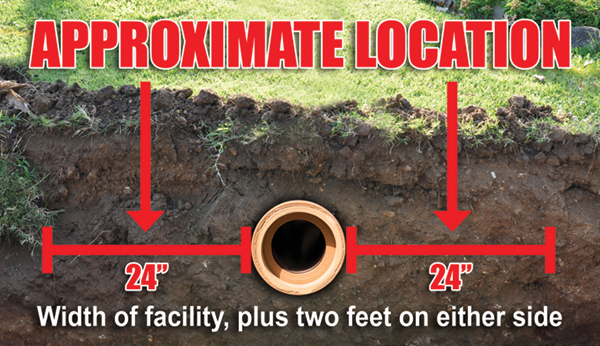 Marking the exact location of underground facilities is very difficult.  Utility flags and marks must be placed within an area not wider than the width of the facilities and two feet on either side.  Mechanically digging within this area is not advised.  Hand digging is recommended.
What do the Marks and Flags Mean?